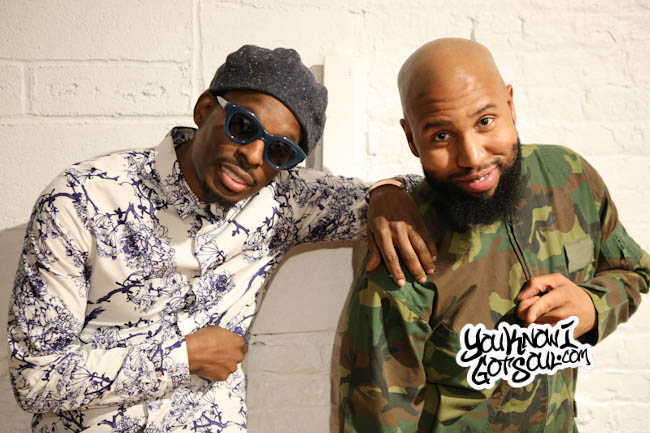 We've watched in admiration over the past few years as Claude Kelly and Chuck Harmony, aka Louis York, have excitingly blazed their own path. Both were already award winning writers and producers, so it would have been easy to continue having success in that realm. Instead they've started from scratch and started the Louis York brand where they've been releasing fresh new music themselves ever since.
The duo is now upon the release of their debut album "American Griots". We already had high expectations for the project, but our excitement was taken to another level after hearing first single "Don't You Forget". The single is a breath of fresh air and everything we've been missing in music over the past few years.
YouKnowIGotSoul had a chance to interview the group once again and discussed what to expect on "American Griots", the challenges faced with starting a new brand, being fearless in their journey, and much more. Listen below to the entire interview, and check out some of what they had to say below.
YKIGS: You guys are fearlessly going in the direction you want to go, regardless of what people think. We really admire that, not many people are able to do that. How do you have that mentality?
Louis York (Claude Kelly): It really comes from a love and respect for what we're doing. A lot of this comes from our conversations and debates about what's missing from music. We come from a long history of music. We've been studying this since we were like two and three years old. We know all of the feelings that music could give you, with the tempos and vibes and key changes and poetry. What bugged us the most is not what's out there, because there is some dope stuff out there, but what really bugged us is what's not out there. We know too much to walk away from it or let music sound like everything else that's out there. We know we have the ability to do what we think is missing and needed. We risk it all because we believe that much in ourselves and in our music and in music period. We would rather go out as the two guys who started a band and did everything that people were feeling and missing and needing to feel, than chasing what everyone else is doing. We believe we are made to stand out. We are going to do whatever it takes to stand out, but also give a good message.
Louis York (Chuck Harmony): I feel like at a certain point in your journey as a musician, you should be able to offer the world what you think should be happening, as opposed to what's happening. A lot of times when people get to a certain place in their career, they feel like they have to remain hot, or they have to be trendy. I just feel like that's not really having faith in your musicianship or in the fact that you want to be great.
YKIGS: It's been a few years since you started the group. You went from award winning writers and producers, to starting from scratch with the group. How has it been?
Louis York (Claude Kelly): Real talk, it's been the best journey of our lives. We're used to starting from scratch. The fact that people know us as songwriter and producer was the same kind of climb. We were no names with no handouts with no famous parents in the industry. We earned every note. When we got to the top of the game, we valued the hard work that it took. For Louis York, our intention is to be the greatest. We understood from the beginning it would be blood, sweat and tears, and it has been. We keep learning lessons and coming out better. The real of it is that every single day comes with a lot of challenges and victories as well. We've lost friends, relationships, partnerships. It's been the hardest journey but the best journey. I wouldn't trade it for anything.
Louis York (Chuck Harmony): The other part about Louis York that I think a lot of people don't get is what's transparent is the musical journey we're on. It's a small part of our journey as men and spiritual beings. This is way more of a spiritual journey.
YKIGS: Introduce us to the upcoming album "American Griots".
Louis York (Claude Kelly): It's the most ambitious, most musically vast body of work we've ever done. No disrespect to all of the records we've done for artists, but that was still baby Chuck and baby Claude. We were still learning how much we could get away with, how much we could push artists and push ourselves. How much money we could make doing it. It was all a learning curve. Now we are professionals at what we do. The music on this album is big, it's emotional, it's heartfelt. There are live strings and live horns, and crazy piano solos. We purposefully make the music shift and change to keep you on your toes. We made it so it was a full body experience. It's not just a series of songs we put together, we could have done that a long time ago. We put together a selection of songs that told a story and also that we felt were food for people. The reason we titled the album was because obviously we are American, and we are modernizing a phrase we want everyone to know about. Being a Griot is something that happened in West Africa, for the last hundreds of years. There were musicians and story tellers that traveled from town to town performing and telling about the culture and history and legacy of these people as they traveled. In a lot of ways, that's what black musicians in America have been doing forever. We take it as a responsibility. The songs are varied. We have Opera on the album. We have country, jazz, spoken word. The guests on the album have been part of our experience here since we moved to Nashville. It's a movement, not just an album. It's telling our story.
YKIGS: We're loving your single "Don't You Forget". How did this masterpiece come together?
Louis York (Claude Kelly): That song honestly came about in a rehearsal for a big show. We were at the end of rehearsal just messing around at the piano. Chuck started playing the vibe on the piano, and it felt right. We get this feeling when we know we're about to land on something. One of us grabs our phone to record the idea. We knew it felt like a groove. We recorded it at rehearsal, but didn't run right to the studio. We sat on the song for months, finding the key, trying to find where we wanted to go. We took our time because we knew it was something potentially very special, so we didn't rush it. It's the last song we did for the album. We knew something was missing for the album. As soon as we did it, we knew it would be the first single. That song is such a big statement about who Chuck is, people don't even know he started out on horns.
Louis York (Chuck Harmony): My first instrument was trombone and then I moved to tuba. I spent all of my developmental years when I wasn't playing drums at church, in a brass section. When we decided that was the first single, I thought I'd highlight the fact that I arrange horns and I do it well. That's what that came from.
Louis York (Claude Kelly): For that whole feel good feeling, we referenced Earth Wind & Fire of course. Hall & Oates, Janet Jackson, Jimmy Jam & Terry Lewis, The Bee Gees, Stevie Wonder. Just a funky unapologetic blackness with a pop sensibility. It's a mashup of all of these songs. That sound has been ignored.
Source: youknowigotsoul.com
---